I think we've all heard how it's all about the eyes right? But it seems these days that's one of the toughest areas to get people to pay attention to without packing on the eyeshadow, eyeliner, and glue on lashes.
How can we make our eyes pop naturally? Bring the attention back to your eyes NATURALLY with your dream lashes. For those of you wanting amazing lashes without getting extensions or maybe you just don't want all the maintenance of the fill-ins that come with it. YOU CAN YUMI! Yumi Lash Lift! The Yumi Lash Lift is a method that instantly enhances your natural lashes.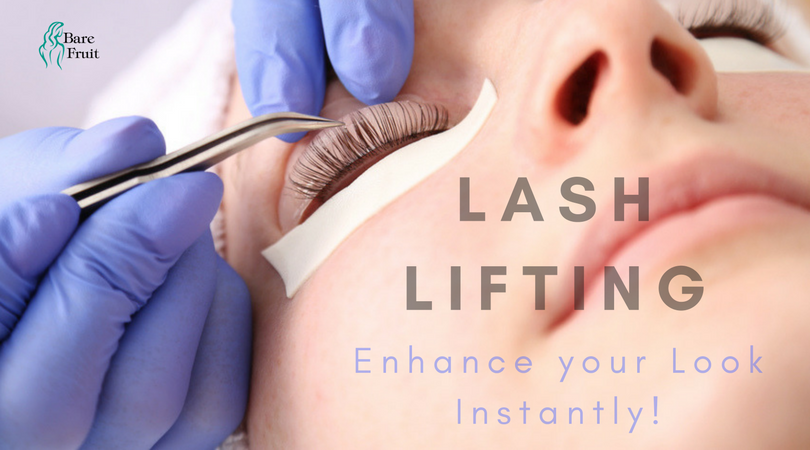 The yumi lash lift is a great option for those looking to correct or upgrade your own lashes:
– Curly Lashes ? YUMI Lash will straighten your lashes and make it so they only curl upward to give you a brighter look!
– Lashes that face Downward? YUMI Lash will lift them up to the sky so you can put down that lash curler you thought you'd always need! You can finally wake up with your lashes curled out of your eyes.
This lash treatment is ideal for those with a decent lash length (ideally 9mm minimum)
-Short Lashes? Have no fear we offer a lash growth serum, this will give you the extra length and thickness you need for optimal results (available for purchase at Bare Fruit) because we don't want you to miss out on this amazing service.
Now I know letting people touch all around your eye area and coating your lids with stuff sounds a little scary so let me walk you through exactly what this beauty treatment entails. This process takes about an hour but you'll be laying down so no need to be concerned about comfort. First, your #BareFruitAngel (Beauty Therapist) will place a silicon pad onto your eye lids, the pad comes in different sizes (small, medium, large) determined by your lash length to give you your desired outcome. Your lashes will be brushed up ward onto  this silicon pad to ensure they lift upwards & all the treatments put on your lashes will stay away from your lash/water line. The combing of your lashes is what may feel the most awkward, then each lash hair is individually brought upward and placed on the pad to ensure a gorgeous, straight lifted set of lashes. After your lashes are placed onto the pad, your beauty therapist will proceed with placing the keratin treatment to your lashes. This is a keratin treatment not a perm, keratin actually strengthens and conditions your lashes.  Next is a setting lotion, so after you lashes have been treated with the lifting lotion, they are "set" in place by a setting lotion, this is what will make your lash lift last.
After sometime, which flew by so quickly because Bare Fruit plays the most amazing music, they applied the lash tint. By darkening the color of the eyelashes they appear to be longer and fuller. Lash Tinting makes them pop more & creates a natural mascara look.
And don't worry as someone who has had this procedure done twice it is completely painless, it won't sting, burn or cause any irritation. Your beauty therapist (Bare Fruit Angel) keeps you company throughout the procedure and explains each step to keep your mind at ease, making it a relaxing experience. I was so relaxed, I even got to catch up on some sleep half way through.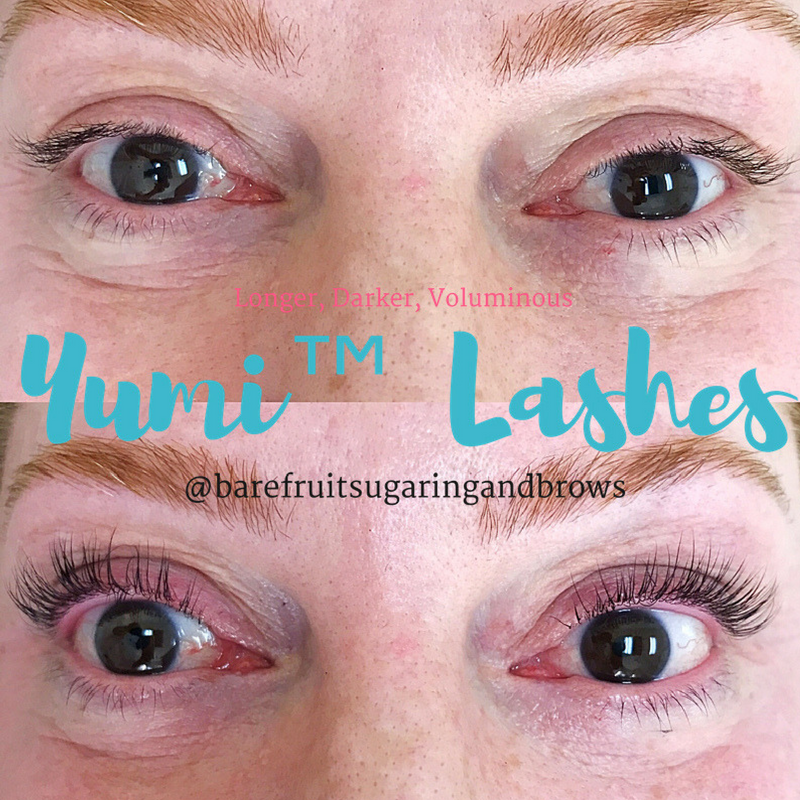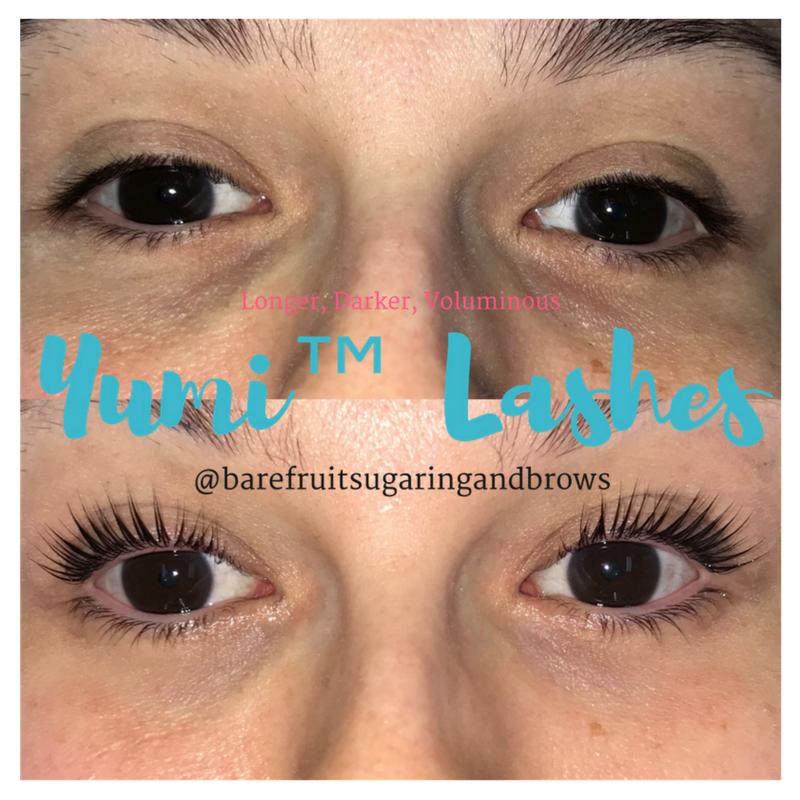 ---
After this you won't even need mascara! Can you imagine waking up and not worrying  about your makeup? How many of us can go about our day & freely rub our eyes when we want? Sounds crazy right, Feel free to leave your lashes bare and rub away! Of course you can still use mascara for those who love your makeup or just want to add some extra drama to your lashes ( just refrain from use for 24 hours after service).
So where can you receive this luxurious treatment?
Bare Fruit Sugaring and Brow Studio has you covered. Actually they'll have you covered for 8-12 weeks. You read that right, the Yumi Lash Lift WILL last for months.  You can book our YUMI Lash service at either of Bare Fruit's locations in Westbury or Farmingdale, our Bare Fruit staff, all equally amazing, all knowledgeable with in depth training in order to give you incredible long lasting results. In just one hour we can make you look and feel more gorgeous than you came in. Even better, since they're your REAL lashes there's such little maintenance.
– DO NOT get your lashes wet for at least 24 hours after this treatment.
– DO NOT sleep on your face, this can crush your lashes and cause them to set incorrectly – To prevent this we recommend sleeping with a Lash Mask (available for purchase in either of our locations) LASH MASK  is  special sleep mask that covers your eyes and has a convex eye area to protect your eyelashes.
– you can purchase the keratin lash mascara to prolong the life span of your lash lift and give it life.
The YUMI lash lift is designed for you to be able to roll out of bed & feel beautiful. Lifted lashes create a more alert, youthful, and happier appearance.
Book your service now! Be worry free with Bare Fruit – the BEST Yumi Lashes Long Island