You see them everywhere, from drugs store like CVS to beauty stores and salons. I'm talking about BODY SCRUBS!
But do we really need them?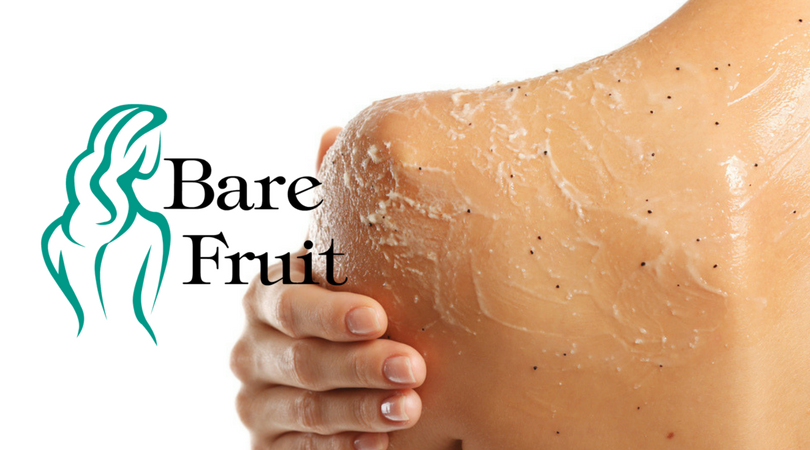 Now I've never been one to give into the ploys and sales pitches for all these products and add-ons we supposedly "need". However, I do have a skin condition called eczema. Meaning my skin is naturally dry, patchy, scaly and red. So I figured why not give this scrub thing a try, being cheap as I am went to Ulta and bought the cheapest body scrub I could find for $7. This particular scrub did make my skin feel much smoother but I would come out of the shower bright red and even have some tiny cuts & scrapes here and there. Apparently this was due to nuts as the exfoliant, nuts are extremely abrasive and can easily tear and irritate your skin.
After this disappointing experience of making my skin more irritated I searched for a safer and more beneficial form of exfoliation. I recently started to work at Bare Fruit Sugaring and Brow Studio. You may not know but aside from just being a
beauty studio to pamper yourself
they make and sell their OWN products. And guess what they have?
BODY SCRUBS – all their scrubs are handmade by the owner. In her scrubs she includes key ingredients that are soothing and beneficial for your skin. Paraben-free body scrubs that you can use all over your body even your face.
SUGAR – sugar is an all natural substance with very fine grains so gentle it will not tear your skin, it does not strip the skin of natural oils or leave behind any harmful residue.
SHEA OIL – shea oil moisturizes the skin and reduces inflammation while protecting your skins natural oils.
AVOCADO OIL – avocado oil is a great source of moisture and a natural sunblock to protect your skin even more
Not only are all these ingredients 100% natural with amazing benefits amazing, that's just the start of pluses exfoliation provides you.
Why Exfoliate?
Exfoliation – removes dead skin cells decongests pores – clogged pores block moisture from getting deep into your skin, this is what cause the surface of you skin yo be dry & rough
                     prevents ingrown hairs
                     leaves you with smoother skin
                     prevents breakouts & razor bumps
                     reduces dark and age spots
                     gives you vibrant and healthier looking skin
Since using Bare Fruit's all natural homemade scrubs my skin is noticeable softer, smoother and brighter. I use it every single time I shower & not only does it make my skin look incredible, it smells just as good! So whether you need a body scrub for eczema, dry skin or aftercare for shaving, waxing, or
SUGARING
 .  Bare Fruit is here to help – They have 2 convenient locations in Farmingdale & Westbury!  Stop choosing the painful cheaper alternatives & get your money's worth with the real deal. They say beauty is pain but at Bare Fruit it doesn't have to be. Start using our gentle sugar scrubs and be happier with your skin.
Still not convinced?  Think it's just too much work?
Well Bare Fruit is now offering
in suite full body scrubs services
! Honestly can they make your life any easier? They make the scrubs and offer the service too! Now there is no excuse, come to Bare Fruit Sugaring & Brows & get the skin you deserve.