TIME + PATIENCE + MAINTENANCE = RESULTS
The Dos & Don'ts for all your Beauty Needs
So at one point or another I'm pretty sure we've all been guilty of walking into a salon and having extremely high and sometimes unrealistic expectations. Of course any time we spend some cash and treat ourselves to some much needed & well deserved pampering we seem to expect drastic life altering results. If only it actually worked like that but ladies let's remember as magical and talented as your esthetician are, they are not your fairy god mother.
A dream result takes more than just an incredible beauty service. It takes TIME, PATIENCE and MAINTENANCE (on your part).
As the saying goes, Kim Kardashian was not built in a day. Or was that Rome?… Eh, pretty much the same thing.
I'm here to inform and remind you, your dream result can become a reality but your esthetician can't do everything, you must do your part as well! Understand your beauty gurus are giving you their best to get you the look you desire so that means you have to give yourself your best too!
Have no fear though beauties, all this takes is routine visits, regular maintenance & realistic expectations.  And do not get discouraged along the way. Kim Kardashian did not start out with an insane hourglass figure & perfectly symmetrical facial features. And as insane and frequent as her beauty regime may seem it is how she maintains her ideal look.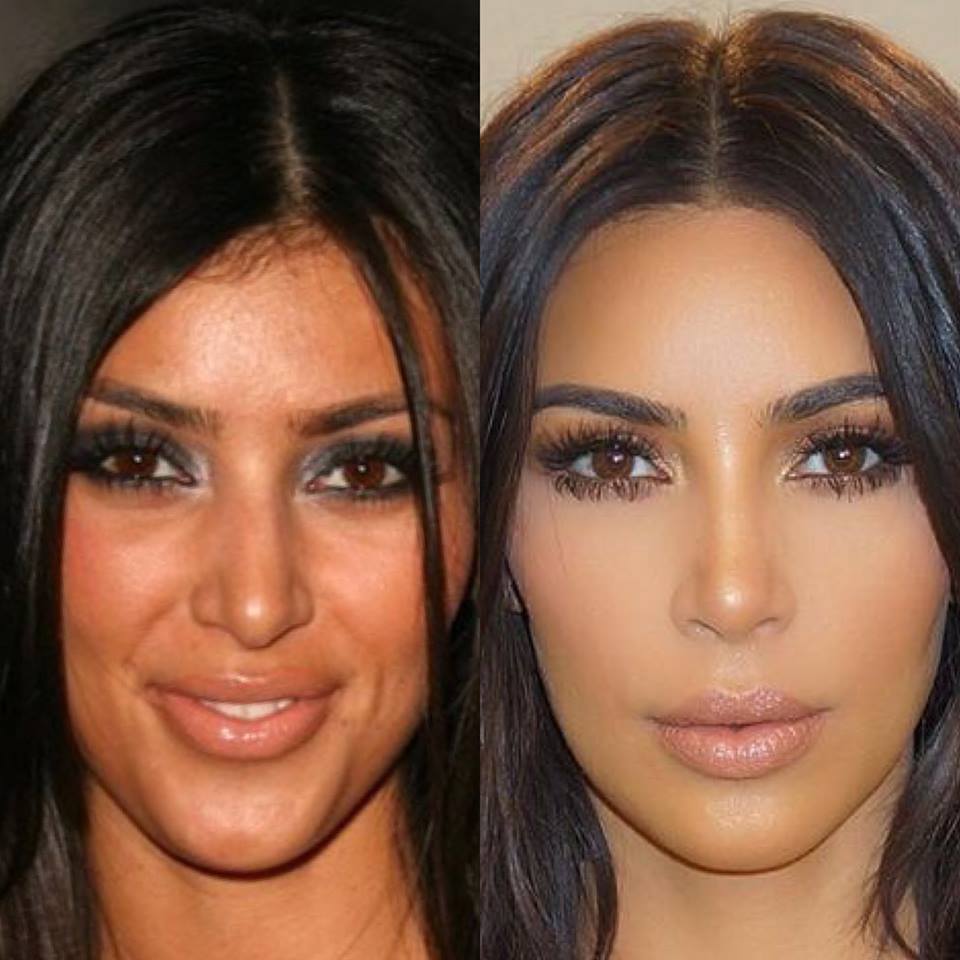 Now for the Specifics,
All the Do's & Donts to Know:
EYEBROWS
SUGARING
TEETH WHITENING
LASHES
———————————————————————————————-
EYEBROWS
Eyebrows are one of the most important features on your face, they have the ability to completely change your appearance whether by face shape or just expression. Here at Bare Fruit Sugaring and Brows Studio we know that Brows are a BIG Deal.
With all the different brow trends that go from being in the lime light to a quick tragic death many of us do not have the luxury of saying we have fresh untouched brows. That being said, be knowledgeable about where you are starting off your brow journey.
For those of you coming from an eyebrow horror story, got carried away with a tweezers or just aren't a fan of your natural brows follow these three simple steps;
Do not be afraid of regrowth, if your brows are unruly to where you can't take it, come to our Bare Fruit Brow Experts.
Do not use your tweezers, get rid of them completely, absolutely nothing good can come from extra plucking. Leave that to your brow expert who knows exactly where to remove hair from.
Absolutely 100% do not touch your eyebrows in between appointments – just getting rid of a few random hairs can hurt your brows in the long run
Do have patience & trust process as frustrating as it may seem.
Our Brow Experts can only Create the Illusion of Hair/Fullness They Cannot Grow Your Brows for You.
Always keep in mind where you are starting from, tracking your progress if needed and always ask if the results you want are possible naturally. If your brows naturally are thin do not expect to get full bushy brows from walking into a salon. Beauticians can only work with what you give them to work with.
If you want 100% natural brows, growth is important and sometimes takes a while to see results – to speed this process along we offer a brow growth serum sold in suite. Grande Brow Serum is made with all natural amino acids and peptides to help increase hair growth. The growth turnover is only 3 months until you have noticeable results.
Bare Fruit is here to help you achieve your Brow Goals, offering multiple options such as,
Brow Styling
Brow Tinting
Eyebrow Extensions
Microblading
Through brow styling our Brow Specialist custom shape your natural brows to fit your face & your expectations, to add some extra boldness a tint is also offered to give you some extra depth and fullness but only temporarily.
Microblading is a 1-3 year temporary eyebrow tattoo. This method uses feather strokes for the appearance of natural hair. This is a great option for those of you with thin eyebrows, hair loss due to medical or other reasons.
Do not wet your brow area
Do not use skin care products or makeup around the area for 10 days minimum
Do not pick or scratch the area, there will be some scabbing- leave it alone
No tanning & use sunscreen
Eyebrow Extensions are perfect if you're looking for fuller brows with less of a commitment, this will give your brows length and fullness. Brow extensions will last you between 4-12 weeks depending on your growth cycle.
Do not wet your brows for 48 hours after this procedure for best results
Do not use oil based products around your brows
Do not rub or scrub your brows
Do not try to remove the extensions yourself
Do come for routine fill-ins when necessary (every 1-3 weeks)
Don't settle for cheap salons that'll thin out your brows over time and don't care to give you the results YOU want! Come to the best in Long Island to get the brows of your dreams by our incredibly knowledgeable Brow Experts and you'll never get your brows done anywhere else!
———————————————————————————————-
SUGARING
Sugaring is a safe and all natural alternative hair removal method. This is a more beneficial form of hair removal for you skin, it removes your hair from the root, lasting longer than waxing or shaving. But sugaring does not just remove hair, while removing the hair the sugar paste is also exfoliating and moisturizing the skin, (pulling off those dead skin cells while leaving your live skin cells in perfect silky condition).
Bare Fruit opted for sugaring over other hair removal methods with our clients best interest in mind. Sugaring is designed to provide you with smoother, healthier skin with less hair growth over time. But your sugarista's cannot give you soft hairless skin if you are not taking care of it yourself.
Steps for Silky Smooth Skin:
Do Exfoliate, this is key! Keep a daily exfoliation routine to get rid of dead skin cells, decongest your pores and prevent ingrowns.  You can buy our all natural Bare Fruit Body Scrubs in suite.
By doing this you are also loosening your hair creating less resistance for removal for your upcoming appointment. – Making things easier on your sugarista & yourself (less pain)
Do not shave in between appointments! Throw away your razor!
This will back track your progress, not only does shaving damage your skin, it breaks the hair in half meaning the hair is still growing even right after you shave, causing more & quicker hair growth.
This causes stubborn hair, ingrowns, razor bumps & skin irritation
Do come for 4 week follow up appointments! Let your hair grow between appointments! If you don't allow your body hair to grow for this time you risk the hairs being too short to be sugared properly & could end in the inability to have the hair removed
YOUR HAIR MUST BE AT LEAST THE LENGTH OF A RICE GRAIN
If you follow these rules it will help promote less hair grow & healthier glowing skin!
Sugaring will decrease the amount & speed of hair growth over time, you will be able to see results after your first time but growth will not stop all together, hair growth will decrease over time for those of you who keep up with regular sugaring.
If this is your first time you may experience some pain, after all your hair is being pulled out from the root, especially if you're coming straight from shaving, your skin & hair will not be used to this at first. If you are sensitive or worried about pain stop by Bare Fruit before your next appointment & get some of our PFB Numb It or PFB Vanish to ease pain & reduce possible inflammation. Use Bare Fruit body scrubs to exfoliate before coming for your hair removal. Pain and inflammation will be minimum but will most likely be experienced your first time. But because sugar is natural and safe it will be much less painful than waxing. For your first time take precaution, visit us to help you prepare the right way with our products & scrubs. But trust me it does get easier over time, after a few appointments you won't even flinch. Keeping up with a routine is the only way to get your dream results.
Over time you will experience less pain, less hair & amazing skin you'll Love!
———————————————————————————————-
TEETH WHITENING
Teeth Whitening is a process that we'd love to have instant results for, although most of the time you can see results right after. Teeth whitening is a treatment that requires time and routine appointments for optimal results. It can take anywhere from 8-12 weeks to see major results of teeth whitening if you are doing this on a weekly basis. If you only come one time or once in a while do not expect to have very white teeth. If you are starting off with very stained or yellow teeth your result time will be a longer process. You have to be consistent and patient especially when it comes to teeth.
Mainly because with teeth whitening it is so easy to lose your progress. This is due to lack of maintenance and care! Even after teeth whitening you must keep up with products that promote healthy and white teeth to keep those pearly whites shinning. Watch what you are eating and drinking – many foods & drinks are prone to staining your teeth.
Try to Avoid;
-COFFEE & TEA
contains tannins that cause stains & discoloration
-WINE,
Red wine also containing tannins can turn teeth a shade of gray
White wine does not cause stains but creates pockets on teeth making them vulnerable to staining elsewhere
-BLACKBERRIES
due to such high pigmentation can cause quite intense stains
-SUGAR
anything high in sugar can leave bacteria on your teeth and can cause dark brown or black spots such as candy, soda, & dark juices like cranberry juice
– ACIDS & CITRUS
these foods can erode the enamel on teeth exposing a yellow hue of the teeth, ex: tomatoes, pineapple, lemonade.
Foods that Benefit Teeth
-Fruits that can help whiten teeth: apple, pears, and strawberries, but be mindful these fruits still contain sugar
-Baking soda can help maintain white teeth BUT DO NOT use this everyday as it can be abrasive
I'm sure this list has hurt some of our hearts knowing some of your favorite foods & drinks are the culprit for our dulling smile but you don't have to give them up all together. Here some simple tips to use;
-chewing sugar free gum
saliva helps rinse the mouth
-drink through a straw
less direct contact on teeth
-brush after eating with Whitening Tooth Paste
prevents lingering bacteria & stains
-Rinse your mouth with mouthwash or water
after eating this will rinse the surface of the teeth
If you are not brushes on a daily basis, using whitening tooth paste and not watching what you take in you will not get astonishing results. Make sure you're doing all you can to maintain your beautiful smile.
———————————————————————————————-
LASHES
Bare Fruit offers our clients different Lash options to meet their needs so whether you want all natural or the extremely dramatic falsies we have it all.
Yumi Lashes:
Our Yumi Lash Lift is a keratin lash treatment that will lift your natural lashes, giving them an upward curl creating a fuller and more voluminous look NATURALLY! This treatment is safe and will not harm your natural lashes.
For this beauty treatment we are enhancing the lashes you already have, nothing is being added. Although this will create a natural false lash look, if your eyelashes are very thin or short it will not add actual fullness or extra length, the lift just creates this appearance.
Do not expect this to fill in bald/spare areas where there are no lashes
Do not wet your lashes for 24 hours after treatment
Do not rub your lashes or they'll tangle!  Brush them daily to prevent this.
Do sleep with a lash mask to prevent lashes from being crushed overnight (sold in suite with concavedeyes specifically to protect your lashes)
Do not use oil based products around your lashes – this will cause them to drop quicker than the usual 8-12 week time frame.
Do use Keratin Mascara (sold in suite) to condition and strengthen your lashes – also prolongs how long your lash lift will last
Yumi Lash is ideal for clients with a full set of their natural lashes & just want an extra pop. Do not expect this to give you the same result as Lash Extensions, this will not erase effects of hair loss. When getting this beauty treatment keep in mind the before appearance of your natural lashes.
Lash Extensions:
Lash Extensions are a great options for those who have short or thin lashes that would not be enhanced enough naturally or you just want very noticeable and dramatic lashes. Lash extensions are attached to you natural lashes one at a time. Lash extensions require fill-ins every 2-3 weeks in order to maintain an even and full look.
For Lash extensions
Do not use Mascara on Lash extensions
Due to the adhesive you cannot used oil based products and won't be able to clean off the mascara.
Do not wet or expose them to heat or use makeup for the first 48 hours – when using makeup be mindful of oiling products near your falsies
Do not rub or pull your lashes.
Do not attempt to remove them yourself! You can pull out your own lashes. To remove them go to a professional.
Makes your Eyes Pop & Draw attention to your Gorgeous Face with our Lash Treatments.
———————————————————————————————-
CONCLUDED
Everyone starts somewhere and you have to be in it for the long haul. Perfection can't happen overnight and definitely not without proper care and attention to maintenance. Trusting the process is a must, change comes from MINOR DIFFERENCES OVER A PERIOD OF TIME.
It's okay to have high expectations and living in a virtual world we understand the need for instant gratification, but it is Healthy to have a Realistic View on what is Possible whether immediately or years down the line and to do so in the safest manner possible.
Any time you get discouraged take a look at where Kim K started, pancake butt and all. She has transformed herself over a period of YEARS and if she can tolerate that long of a process to finally achieve her dream look so can you BFFs. But it all comes with maintenance, without putting in the work there is no reward. Sure, she may have plastic surgery from her forehead to her toes but a onetime procedure is NOT what keeps her looking that good.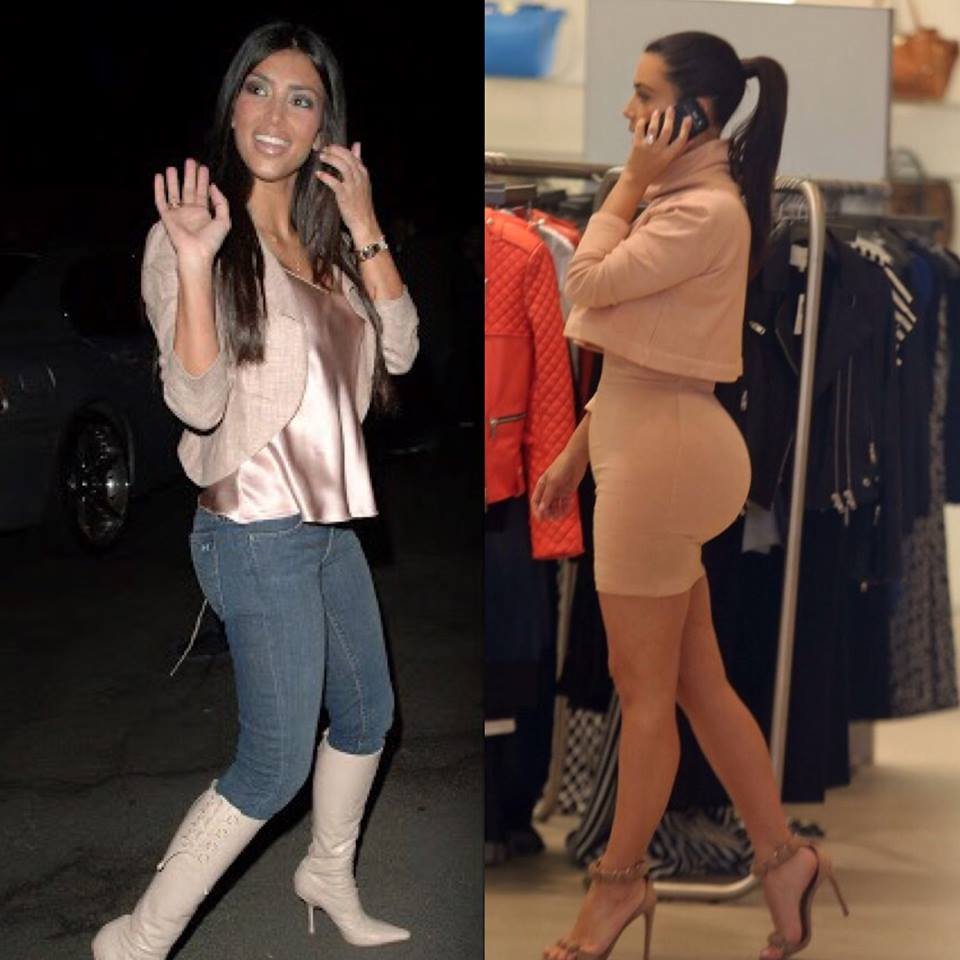 It's all due to maintenance & routine. Here at Bare Fruit we are doing our best to keep you encouraged and happy. We are here for you & want to help you love your look.